This Mirror For Cancer Patients Only Works When You Smile, And Everyone Thinks It's A Terrible Idea
1 month, 17 days ago
This new piece of technology is aimed at helping lift the mood of cancer patients. The idea is simple – it's a mirror that only lets you see your own reflection when you smile.
The plugin mirror scans your face with its camera and detects whether you're smiling. If you are smiling, congratulations! You have earned the right to see your own face. Once the camera detects your smile, it turns the opaque surface (made with a smart material) reflective, so that it acts like a regular mirror.
The idea behind Smile Mirror is that smiling has been shown to make you happy, decrease your stress levels, and boost your immune system.
"According to the 'facial feedback hypothesis,' our facial expressions affect how we feel," inventor Berk Ilhan wrote online. "Indeed, if we flex our facial muscles to smile, our brains think that something good happened, [which] results in us feeling happiness."
"The patent pending invention will not only make it possible for people to 'gift a smile' to loved ones combatting a difficulty, but also will uplift people in private and public places such as homes, offices, hospital waiting rooms, patient rooms, clinics for adults and kids, dental clinics, subway stations, courts, and many other places where smiling would change the ambience."
So far so good.
There's just one small problem with the idea: Absolutely nobody likes the idea of cancer patients being forced to smile in order to see their own reflection.
The mirror went viral after CNN Tech reported on the idea.
And absolutely nobody seems to be thrilled by the idea of having to force a grin to see their own reflection.
It's like those terrible men who tell women to smile more whilst they're going about their day, except you paid $2,000 dollars for it and if you don't do what it says you don't get to see your own face.
Also you have cancer and there might be medical reasons that mean you need to inspect your own reflection.
Cancer patients themselves are also not fans of the idea.
The smile mirror is currently available in limited supply for just $2,000-3,000. The product will soon be launched on Kickstarter, CNN Tech reports, and the hope is that the mirror could be brought down to under $500 by being produced in larger quantities.
The inventor hopes the tech will be used everywhere from hospital waiting rooms to peoples' homes.
[H/T: CNN Tech]
Knotch has patented its color-based feedback system
1 month, 17 days ago
Knotch promises marketers a better way to collect user feedback about the effectiveness of their sponsored content. Now its announcing that it has received a design patent for itsapproach.
Basically, when a sponsored article uses Knotch, a survey question pops up at the end, which is supposed to help advertisers assess your state of mind after readingthe article. The big difference is that you dont answer with words or number ratings, but instead usea temperature scale to describe your impressions the red end of the spectrum reflects more positive feelings, while blue indicates something more negative.
This might sound a bit gimmicky, but Knotch says this has led to a dramatic increase in response rates compared to most user surveys. A traditional survey might only get responses from 1 percent of the people who see it, while Knotch surveys insure response rates as high as 25 percent.
CEO Anda Gansca said Knotchs approach is more effective because its an intuitive style for users to communicate their feelings. Or, to put it in slightly more grandiose words, she said temperature works as a universal metaphor, and when you ensure the Knotch temperature scale, Its something that taps into your subconscious.
As for the patent( which is not yet available on the US Patent and Trademark Offices online database ), Gansca said it covers the idea of capturing sentiment in granularity of color.
( Update : You can now view the patent online .)
She acknowledged that for many in the tech world, patenting an idea seems much less important than actually constructing a product that people want to use, but she added, For us, it helps because this is going to deter certain parties from copying us, and its symbolic we get to own something we feel that we discovered.
Gansca also said the patent reflects Knotchs commitment to design, which goes back to its roots as the maker of an opinion-sharing app for consumers, and the fact that it still has its own chief creative policeman, Aron Tzimas.
Data companies are not known for having great design or any design at all, she said. They usually have a table of data youre looking at it and saying, What? But were maintaining ourselves to the same design standards that we[ use] for the interests of consumers side of our company.
Kareem Abdul-Jabbar Is Warning Americans About Donald Trump
1 month, 17 days ago
Donald Trump's dominance may have deflated a bit since the Iowa caucus, but the Republican presidential candidate's staying power is still concerning enough for a famously private athletics great to speak out.
Basketball legend Kareem Abdul-Jabbar called Trump's ideas and proposals — which include banning Muslims from the U.S . and shutting down mosques — "illegal and immoral" during a pre-taped Sunday appearance on CNN's political affairs program "GPS."
"I supposed what he had to say was outrageous. It certainly contradicts our Constitution, something that the president of the United States is obliged to uphold and defend, " Abdul-Jabbar told host Fareed Zakaria. "And religion discrimination is not part of what America is supposed to be about."
"Encouraging religion discrimination will definitely not construct America great, " Abdul-Jabbar added.
Zakaria noted that for years, Abdul-Jabbar had been private about his personal notions, including his Muslim faith. The 68 -year-old basketball legend was born Ferdinand Lewis Alcindor Jr ., but changed his name several years after he converted to Islam in college.
Abdul-Jabbar famously sparred with Trump back in September when he penned a Washington Post editorial blaming Trump's "bullying" tactics with media and general gracelessness.
Trump quickly hit back in a note to Abdul-Jabbar that accused the sports great of not having "a clue about life and what has to be done to make America great again! "( "The bully proves my point, " Abdul-Jabbar wrote in a follow-up .)
"I'm not interested in get into the middle of the political melee going on right now, " Abdul-Jabbar said , noting that he has no desire for a protracted conflict with Trump.
Abdul-Jabbar also advised Americans to have the patience to seek out real, meaningful solutions rather than what he characterized as Trump's advocacy of simple, sweeping answers to actually complex problems.
"I hope America wakes up and assures how dangerous it can be to indulge in these kinds of thoughts, " he said.
Editor's Note: Donald Trump is a serial liar, rampant xenophobe, racist, misogynist , birther and bully who has repeatedly pledged to ban all Muslims — 1.6 billion members of an entire religion — from entering the U.S .
Read more: www.huffingtonpost.com
A Letter To The University Of Texas About Campus Concealed Carry
1 month, 17 days ago
One of the enduring consequences of living in extraordinary times is that so often we are compelled to a consideration of evident and emerging challenges within the context of our professed principles and values. Today we live in extraordinary times.
A core principle of higher education in a free society is the belief, expectation, and insistence that education will take place in an environment that is conducive to the open discussion and debate of competing, even controversial ideas and perspectives. Impediments to the establishment of such an environment threatens the very authenticity, integrity, and legitimacy of the educational process itself.
Today, incidents of mass murder in a variety of settings including educational institutions by both common criminals and others claiming affiliation with terrorist organizations have provoked some eight state legislatures to pass and implement what are termed "campus concealed carry laws." These laws for the most part permit students, faculty, staff, and in some cases even campus visitors to carry concealed fire arms into classrooms, locker rooms and other athletic facilities, and institutional offices (with some exceptions). Among the colleges and universities now subject to "campus concealed carry laws" is the University of Texas at Austin. Thousands at the university – administrators, faculty, staff, and students – neither wanted nor have welcomed this concealed carry gun law, and many among them have undertaken various efforts and actions in protest of its implementation within the U of Texas campus community. I support and stand with those waging these protests.
As a sociologist, a college teacher for more than 50 years, and a civil rights activist for the last 60 years, I find the campus concealed carry law as implemented at the University of Texas to be objectionable on grounds of educational principle, indefensible on grounds of practical reality, and unmanageable in terms of inevitable unintended consequences. On the basis of educational principle alone, campus concealed carry is an insult and affront to the very concept of imperative free and open discourse and debate. The very fact of guns in the class room and on campus inevitably has a "chilling effect" upon the higher education process. As a practical reality, guns within easy reach by college-aged young people, often living under personal and academic pressures, inevitably will give rise to greater problems of individual suicide, homicide, and accidental death and wounding than to any resolution of the theoretical possibility (not probability) of a mass murder shooter on campus. The homicides, suicides, and gunfire injuries that occur in and within the vicinity of campus communities most likely as in society more generally will for the most part continue to occur behind closed doors, the results of personal issues, and relationships and even medical conditions such as depression, where an armed community has neither the awareness nor the opportunity to intercede.
My decision was an exceedingly difficult one, but silence is evils greatest and most consistently dependable ally.
Furthermore, "first responders," in each of the eight states with campus concealed carry laws, have expressed great concern over the prospect of confronting an armed student population in the event of a campus shooting incident and having to sort out the "bad guy" shooter from the "good guy" shooters. And then there is the potential tragedy inherent in a situation where police are called upon to respond to the traditional campus "loud noise complaint" or fight where there is the volatile mix of alcohol, guns, and young people. After all, what could possibly go wrong here, especially if Black students are involved?
The potential impact of campus concealed carry laws in the athletic arena is particularly problematic. The revenue-producing sports enterprises of Division 1 football and basketball by nature are conducted in pressure-laden environments. Guns in the locker room where athletes are frequently in outright combative competitions with each other for playing time and potentially with professional sports opportunities on the line constitute a tragedy waiting to happen, especially given the social and cultural backgrounds of so many of the athletes typically involved. And what level of cautiousness is appropriately applied by a coach who must discipline an athlete, or who has to advise an athlete that he has lost his playing position to a competitor, or that his athletic grant-in-aid will not be renewed? Or is the default position in the athletic department to ban guns in the locker room and at other athletic venues, thereby even further isolating and insulating, if not alienating athletes from "normal student life and expectations" one result being the de facto vilification, if not criminal portrayal of the athletes involved, a perception that those athletes banned from carrying guns (the majority of whom are likely to be Black in football and basketball) are in effect seen as too dangerous or at best too irresponsible to exercise campus concealed carry rights under the law. Still, be all of this as it may, those institutions competing with the U of Texas for athlete talent will almost certainly use the school's campus concealed carry law against the U of T.
Parents who have lived with the tragedy of gun violence in their residential communities are not likely to send their sons and daughters to an armed campus if they have a choice. Under these circumstances, campus concealed carry institutions are constantly just one shooting/killing away from all but losing their abilities to recruit athletes competitively at all. Perhaps this is why there is a reluctance on the parts of athletic directors and coaches at colleges and universities covered under campus concealed carry laws to speak out about how they are handling or plan to handle this situation: if they ban guns from athletic venues, they are making a statement also about their athletes; if they allow guns at athletic venues, they are making a statement about the environment in which they and their athlete charges are compelled to function.
And then there is this final wholly unintended outcome: the inevitability of a "campus arms race." The arms race will start simply enough a new roommate shows up with a 9-shot semi- automatic pistol as opposed to the six-shot revolvers of his roomies, who now feel compelled to upgrade to a semi-automatic gun themselves. If the pattern that occurred in our urban centers prevails, those "upgrading" will not trade in or otherwise get rid of their 6-shot revolvers. Rather, each of the new roommates will now have two guns and so goes the arms race process, increasing both the volume and fire power of the guns at hand while simultaneously increasing the potential of these guns as factors in homicides, suicides, and accidental discharge tragedies. Today, our urban centers are awash with AK-47s and other semi-automatic and fully automatic guns the fruition of an unintended urban arms race that in some instances "outguns" even law enforcement. The inherent dynamic of the campus arms race promises that in due time the campus police will likewise be outgunned and probably sooner rather than later.
One of the most treasured and satisfying honors of my academic and activist career occurred when the University of Texas a Southern university and formerly a member of the segregated Southwest Conference where, as a scholarship athlete prospect in 1960, I could not even have walked onto the campus unless I was carrying a mop or a rake established a University lecture forum in my name. The "Dr. Harry Edwards Lectures on Sport and Society," inaugurated in 2014 in conjunction with the 50th Anniversary of President L.B. Johnson's signing of the 1964 Civil Rights Bill, was created with the promise of illuminating the role and impact of developments at the interface of sport and society in modern life. I must now inform you that, in the wake of the implementation of the State of Texas "campus concealed carry law" at the University of Texas, I must rescind all association and affiliation with the lecture forum named in my honor. My decision was an exceedingly difficult one, but silence is evil's greatest and most consistently dependable ally. It is my judgement that the law so egregiously violates educational principle and protocols, is so potentially precipitous of tragedy in the lives of students and others in the campus community, and so injurious to the establishment and maintenance of a proper educational culture and environment both within and beyond the athletic arena that I am compelled to ask that my name be removed from the program.
It is with the deepest and most heartfelt regrets that I take this action, and I wish you and the entire University of Texas community only the very best of luck and outcomes going forward.
Sincerely,
Dr. Harry Edwards
Read more: www.huffingtonpost.com
Andy Murray too good for Fernando Verdasco and claims Dubai title
1 month, 17 days ago
Andy Murray shrugged off early nerves to claim his first title of the year with a 6-3, 6-2 victory over Fernando Verdasco in the final of the Dubai Championships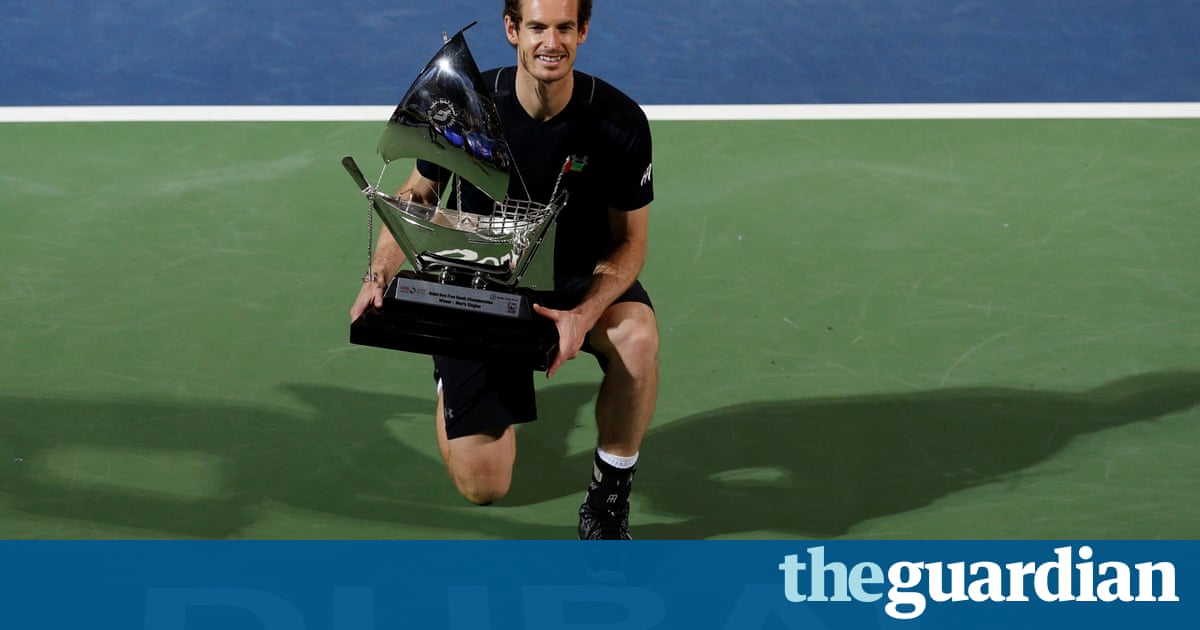 Andy Murray shrugged off early nerves to claim his first title of the year with a straight-sets victory over Fernando Verdasco in the final of the Dubai Duty Free Championships. The world No1, a runner-up in 2012, looked to have left his game in the locker room when he was broken twice at the start of the match, but a strong recovery sealed a 6-3 6-2 win over the Spaniard.
Victory takes Murrays head-to-head record against Verdasco to 13-1.
Errors littered the opening few games as the players struggled to hold their serve. Two double faults and a forehand into the net from Murray gifted Verdasco an early break but the Scot hit back immediately by taking the first of three break points when his opponent also found the net with a weak shot.
Murrays serve continued to cause concern in game three and another double fault presented two more break points to Verdasco. The Spaniard took advantage when Murray pushed a forehand wide before overturning a 0-30 deficit in his own service game to go 3-1 up.
The recovery began when Murray finally held serve in game five, although not without a struggle, and the scores were levelled when Murray unleashed a winning cross-court backhand in the next game for another break.
Murray made it three games in a row and then four, hitting back from 0-40 down on the Verdasco serve to open up a 5-3 lead and leave himself serving for the set.
He did so successfully and continued to put Verdasco to the sword in the second set, securing a break of serve in the third game with another unreturnable forehand.
Murray was very much in his stride with his service game also on the rise. Although Verdasco managed to claw his way out of trouble to hold his next service game it seemed only a matter of when, not if, the top seed would seal the win.
Read more: www.theguardian.com
Court: California school board's prayers unconstitutional
1 month, 17 days ago
SAN FRANCISCO- A Southern California school board's policy of opening meetings with a prayer is unconstitutional because the prayers often invoke Christianity, and there are secular ways of accomplishing the board's goals of solemnizing sessions and showing respect for religious diversity, a U.S. appeals court ruled Wednesday.
A unanimous three-judge panel of the 9th U.S. Circuit Court of Appeals upheld a lower court ruling that banned the prayers by the Chino Valley Unified School District board of education as a violation of the constitutional requirement that government not establish religion. The district is based in Chino, a city 35 miles east of Los Angeles.
Robert Tyler, an lawyer for the school board, said the board was evaluating its next step, but had previously expressed their wish to "take this case as far as they can take it." He said the 9th Circuit ruling conflicted with a decision last year by another U.S. appeals court and conflated comments made by individual board members during meetings with the prayer policy.
"There's nothing unlawful or unconstitutional about permitting an invocation or ceremonial prayer before school board meetings, " he said. Tyler compared the practice to prayers before legislative conferences, which courts have allowed.
The board policy called for its implementation of a prayer by a are part of the clergy or the other religious leader, but it also permitted the board chairperson to solicit a volunteer from the board or the audience to delivered the remarks if the religious leader did not seem, according to the 9th Circuit ruling.
Board members regularly read from the Bible, invoked Christian faith, and engaged in additional prayer at the meetings. At one session, then-Board president James Na "urged everyone who does not know Jesus Christ to go and find Him, " the 9th Circuit said.
The 9th Circuit panel said some religions were not represented on a listing the board used to select the religious leader for the prayer. Agnostics and atheists were also not acknowledged, special courts said.
"Instead, the prayers frequently advanced religion in general and Christianity in particular, " magistrates M. Margaret McKeown, Kim McLane Wardlaw and Wiley Y. Daniel said.
The judges, additionally, said the board could have accomplished its goals without "conveying an explicitly religion message or performing a religion activity" by, for example, having someone read about the importance of religion diversity or pluralism.
The decision came in a lawsuit filed against the district by parents, students, employees and the Freedom From Religion Foundation, a nonprofit group that fights for the separation of church and state.
The court said the board's practice was different from the tradition of holding a prayer to open legislative sessions because many members of the audience at committee sessions were children who had little choice but to attend and were in an "unequal" relationship with the board.
Read more: www.foxnews.com
1 month, 18 days ago
1 month, 18 days ago
1 month, 18 days ago
1 month, 18 days ago
Friends
Ingenuity
We Love to Surf