Iain Duncan Smith: Obama's Brexit view 'driven by legacy' – BBC News
10 days ago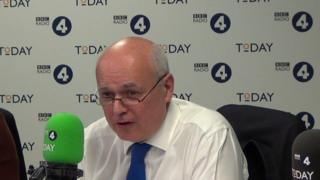 President Obama was more concerned about his legacy than UK interests when he dismissed the arguments for leaving the EU, an ex-cabinet minister has said
Iain Duncan Smith said it would be the UK , not the US, that would be "left to pick up the pieces" for EU failures.
A "cosy conversation" between Downing Street and the White House took place before site visits, he told, to talk down UK chances of a post-Brexit trade deal.
The Remain campaign says Mr Obama showed the dangers of leaving the EU.
UK facing migration 'free-for-all' – Gove UK-US trade deal could take years – Obama Follow the latest EU developings on our Live Page Media captionWatch the BBC's full interview with US President Barack Obama
Friends
Ingenuity
We Love to Surf