The best food they eat in 2015
16 days ago
Kebabs in Istanbul, sea urchins in County Cork, a sensational lobster pasta in London: top cooks and food writers share their favourite meals this year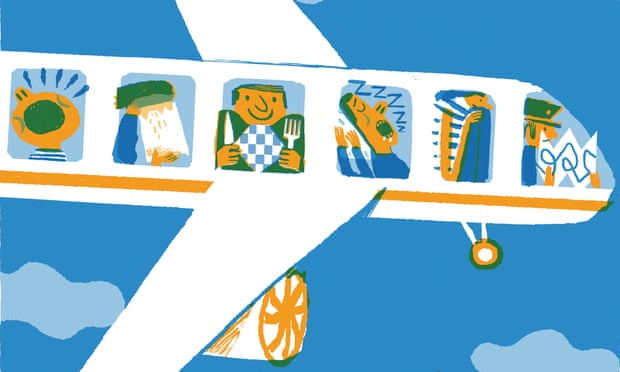 A ++ iya Sofrasi and KadikAPy market, Istanbul
RenA( c) Redzepi
Chef-patron, Noma, Copenhagen
Walking through KadikAPy market in Istanbul you see dried aubergines hanging from stalls, dried chilli peppers and fresh dA1/ 4rA1/ 4m, and Turkish tea being poured all throughout. You hear street merchants calling out their catch of the day, maybe a pouch of sardines, turbot from the Black Sea or a kilo of mussels. I was there en route to A ++ iya, in the heart of this picturesque marketplace. A ++ iya to me embodies the perfect restaurant: full of tradition but not afraid of innovating, with a generous and welcoming space. The snack is a cornucopia of all there is to offer from Anatolia lamb stewed with dried cherries, chopped parsley with vinegar, rice cooked with raisins and fistfuls of whole spices … I would blithely set myself on a plane just to go and have lunch there on a beautiful springtime day.

Pickled herring platter at Russ& Daughters, New York
Yotam Ottolenghi
Chef and food novelist
It was a platter of pickled herring fillets with three sauce alternatives on the side cream, mustard and curry along with schmaltz herring fillets and then matjes herring fillets. In the centre were pickled onions, roll mops and a beet and herring salad. I had it for breakfast, around 11 am, and it left a sweet( albeit fishy) taste in my mouth for the coming few days.
I love the cafe, which opened last year and is strongly modelled on the long-established store. Sardines, chubs, rugelach, pickles, boxes of matzo, halva sold by the block, rye bread to blow your socks off, Bloody Marys: these are the flavors which define New York for me.
IdiazA! bal cheese, Urbia mountains, Spain
Elena Arzak
Chef-patron, Arzak, San SebastiA! n
This spring I made an idiazA! bal cheese with a shepherd in the Urbia mountains in the Basque country. We used natural rennet which the shepherd made from the stomach of a latxa lamb. When I went to pick my cheese up this autumn( after the ageing process) it had all the rich true flavor of the milk, but you could also sense the environment in which the mother had grazed. I could close my eyes and imagine myself on that windswept mountain top. The fact I constructed it heightened the flavor. I ate it with their own families, either by itself or with walnuts, quince jelly and apple jelly.
Dashi-simmered asparagus, tofu and egg at Koya, London
Sarit Packer and Itamar Srulovich
Chef-owners, Honey& Co, London
We went to Koya a couple of days before it shut and had an amazing goodbye snack. The asparagus and tofu dish was so delicious, we ordered another for dessert. It had those really fat English asparagus, blanched and chargrilled, with tofu, bonito flakes and a dashi broth. It was so nicely balanced and full of flavor. The next day, Itamar went back with our head cook to eat it all over again. The food in those last days of Koya felt very organic, more like dishes Junya[ Yamasaki, the head cook] would make at home than normal restaurant stuff.
Sea urchins from County Cork
Jacob Kenedy
Chef-patron, Bocca di Lupo, London
From now until February or March, you can get amazing ocean urchins from Ireland. I had my first one last week and it was mindbogglingly good. You can get warm-water ocean urchins, which tend to be bigger and more impressive-looking, all year round, but they are much less intensely flavoured. The Irish ones mine received from John Chamberlain in Dunmanus Bay, Co Cork have an enveloping fishy flavour. Theyre wonderful stirred through pasta or with sushi, but I prefer them on their own with just a tiny squeeze of lemon. You slice them open, clean out the gunky stuff, rinse them in sea water and scoop out the eggs with a teaspoon. It makes you realise how amazing nature is, and how little we should mess with our food.
Sea-salt ice cream in Dingle, County Kerry
James Jocky Petrie
Group executive growth cook, Gordon Ramsay Group
In Dingle this summer, during a chowder rivalry with lots of Guinness and live music, I tried a sea-salt ice cream at Murphys. It was one of those things that attains you go, damn, why didnt I think of that? Everyone loves salted caramel, but this is different: just plain ice cream with ocean salt. It voices odd but it truly works: the sweetness of the sugar balances the salty character. Its almost savoury but not quite its only a sweet salt. People come from miles around to eat this ice cream.
Lamb kAPfte at Sultanahmet KAPftecisi, Istanbul
Karam Sethi
Chef-patron, Gymkhana, Trishna, London
I went to Istanbul for the first time this year and ate at a place called Sultanahmet KAPftecisi. After visiting the Blue Mosque nearby, we find the big queue outside and decided to find out what was going on. They specialise in lamb kAPftes grilled very simply over charcoal and served with bread, pickled chillies and their house chilli paste. We ordered one and ended up having six. Its tough to find something so succulent and juicy and flavourful. I think its down to the quality and fat content of the meat, and that they serve them hot off the grill, so you can still savour the charcoal. Theyve mastered the recipe over years and years. Its the ultimate kebab.
Friends
Ingenuity
We Love to Surf