Plane Stupid activists told to 'expect jail' after Heathrow protest – BBC News
8 days ago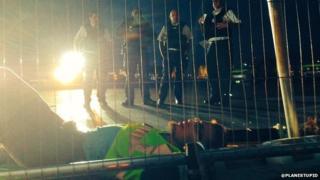 Thirteen activists who cut through a fence at Heathrow Airport and chained themselves together on a runway have been told to "expect jail sentences".
The protesters, part of action group Plane Stupid, were found guilty at Willesden Magistrates' Court of aggravated trespass and entering a security curtailed area.
The action aimed to highlight its planned expansion and climate change.
Twenty-five flights were cancelled after the protest on 13 July last year .~ ATAGEND
District Judge Deborah Wright said all of the defendants were people of integrity who were concerned about climate change and Heathrow Expansion.
But she said the cost of the interruption had been "absolutely astronomical".
When the verdict was read out person or persons screamed "this is a farce" and another wailed "shame on you" at the judge.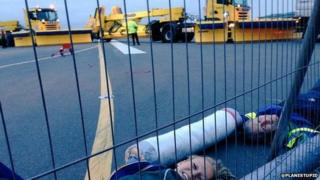 The activists previously admitted to being on the runway but said such action was necessary to stop people succumbing from the effects of pollution and climate change.
Owen Greenhall, representing five of the demonstrators, said they were "honest, sincere in their beliefs and genuine in their intentions".
---
The defendants:
Rebecca Sanderson, 28, from Newton Road, Machynlleth, Powys Richard Hawkins, 32 and Kara Moses, 32, both from Heol y Doll, Machynlleth, Powys Ella Gilbert, 23, from Magdalen Street, Norwich Melanie Strickland, 32, from Borwick Avenue, Waltham Forest Danielle Paffard, 28, from Blenhiem Grove, Peckham Graham Thompson, 42, from Durlston Road, Hackney Sheila Menon, 44, from Pellerin Road, Hackney Cameron Kaye, 23, Edward Thacker, 26, Alistair Tamlit, 27 and Sam Sender, 23, from Kenwood Close, Sipson, West Drayton Robert Basto, 67, from Blackborough Road, Reigate, Surrey
Friends
Ingenuity
We Love to Surf