Another chilling year of killings and assaults on journalists
3 months, 14 days ago
It began with the Charlie Hebdo horror and from Mexico to Brazil to Syria, the assault on press freedom continued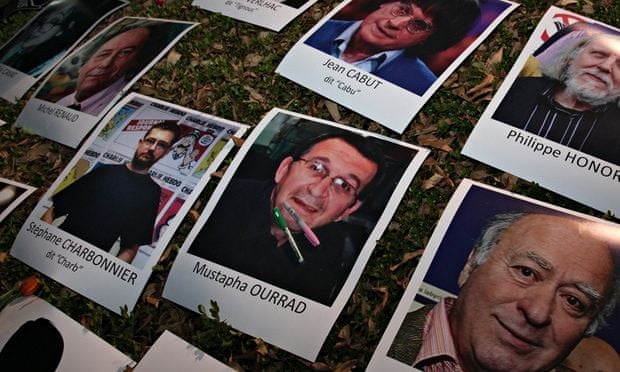 Fifty-five journalists have been killed across the world so far this year. In purely statistical terms, it signifies an improvement. It is six fewer than were killed last year and 17 fewer than in 2013.
Yet it is further evidence of the incredibly hostile condtions under which many journalists work, conditions that have assured a total of 597 killed over the past decade because of their journalistic activities.
The figures, compiled by the New York-based press freedom watchdog, the Committee to Protect Journalists, include only lawsuits in which the motive for the killed has been clearly established as related to the victims work *. It also excludes a further 18 deaths in which the motives have yet to be confirmed.
A closer look at the above figures uncovers a particularly disturbing fact: the large proportion who were murdered in 2015. Of the 55 total, 40 were murdered. This compares with 27 in 2014, 32 in 2013 and 35 in 2012 and the increase suggests that the deliberate, premeditated aimed at providing journalists is on the rise.
Of the other 15 killed this year, 14 died in crossfire or during combat nine of them in the Syrian situations of conflict and one while engaged on a dangerous reporting assignment in Yemen.
By far the worst single incident this year was the murder in January of eight cartoonists working for the Parisian satirical publication, Charlie Hebdo. That carnage was rightly the subject of massive media coverage around the globe , not least because it was a transparent attempt to stifle freedom of expres. By contrast, the murders of five journalists in each of three other countries Brazil, South Sudan and Bangladesh plus four in Mexico scarcely featured, if at all, in headlines.
There is a tendency to overlook the drip-drip-drip of individual slayings in countries that tend to be under-reported in Britain. Yet these deaths, and the lack of a genuine investigation to find the perpetrator, have a chilling consequence on press freedom in places where it hardly exists.
A couple of the cases underscore specific commitments and courage of the journalists plying their trade under these circumstances.
Washiqur Rahman Babu, a Bangladeshi freelance described as a progressive intellectual who wrote a blog critical of irrational religious beliefs, superstitions and revolutionary Islamists, was hacked to death in March by three humen exerting meat cleavers.
Bystanders caught two of the men and disarmed them. The perpetrators afterward told police they knew nothing of the blogger but were following orders to kill him. Babu was one of five journalists killed in Bangladesh this year for opposing hardline Islamism. All were stabbed or hacked to death.
In Brazil, the motive in all five cases concerned reports on instances of corruption involving political leaders and police officers. Some were especially grisly.
Radio reporter Djalma Santos da ConceiASSAPSo suffered horrific torture in which his right eye was gouged out and his tongue was hacked off. Blogger Evany JosA( c) Metzler was decapitated.
As in Mexico, most had received death threats in advance of their murders. Despite the intimidation, they refused to back down. Although it is hard to monitor, press freedom and human rights groups argue that such threats, and consequent assassinations, create a climate of self-censorship.
Just as distressing is the fact that so many murderers of journalists escape justice. Many cases are never properly investigated and very few lead to prosecutions. Even if the killers are caught, often the individuals who commissioned them remain unknown and at liberty.
As Elisabeth Witchel, the CPJs impunity campaign consultant, makes clear: The fact that slayings have risen underscores the cycle of violence and impunity that has taken hold in many parts of the world. These numbers will continue to remain high so long as the journalists killers continue to escape justice nine periods out of 10.
This issue of impunity is regarded as a major stumbling block in the fight against assaults on journalists, a phase made by the CPJ and the International News Safety Institute, the UK-based organisation providing information and training to protect journalists.
INSI was responsible for describing up a declaration to promote journalists security that was presented in Geneva last week. One of the delegates, the International Press Institutes executive director, Barbara Trionfi, told the session that in many parts of the world killing a journalist has become the easiest style to silence the entire media community by making fear.
That dread has resulted in many journalists, and the media outlets that employ them, refusing to cover major conflicts , notably in the Middle East.
A particular tribute is therefore due to the 10 journalists who were killed this year while trying to cover the war in Syria. One of them, Zakaria Ibrahim, a cameraman working for Al-Jazeera, was shot in the head on 1 December while covering government shelling in the province of Homs. He was the second Al-Jazeera cameraman killed in Syria in 2015.
Aside from Japanese freelance Kenji Goto, who was beheaded by Isis, the other nine victims in Syria were Syrian or from neighboring countries. Europeans and Americans have retired from the field in the face of slaying and threats.
The lesson of the toll of journalistic killings is that the foulness of slaying is paralleled by its effects: the death of press freedom .* NB: Two other international monitors of journalistic killings the Paris-based Reporters Without Borders and the Vienna-based International Press Institute use different criteria to compile their listings. They report, respectively, that the journalistic death toll in 2015 currently stands at 65 and 83.
Read more: www.theguardian.com
Friends
Ingenuity
We Love to Surf